Below is an account written by Susan M. of what she know's about Kole's early life through him becoming ill. Check back soon as we continue the story...We'll also add more pictures and videos that map Kole's developement...
To see a slide show of Kole's progress click here
Kole's Story by Susan M.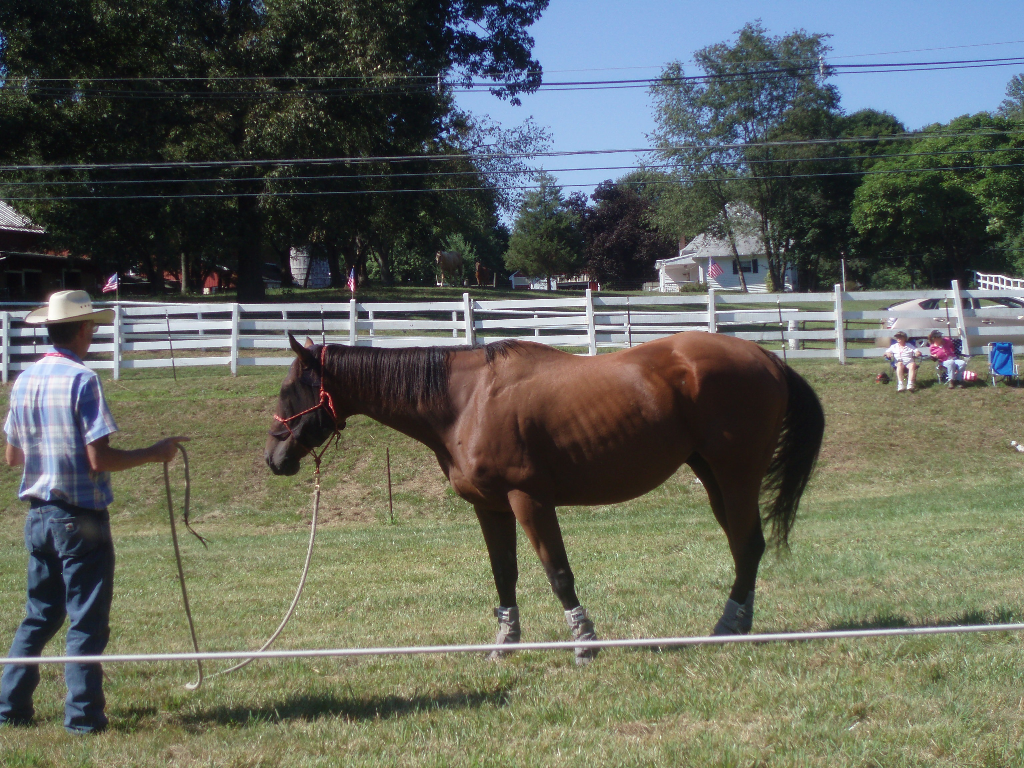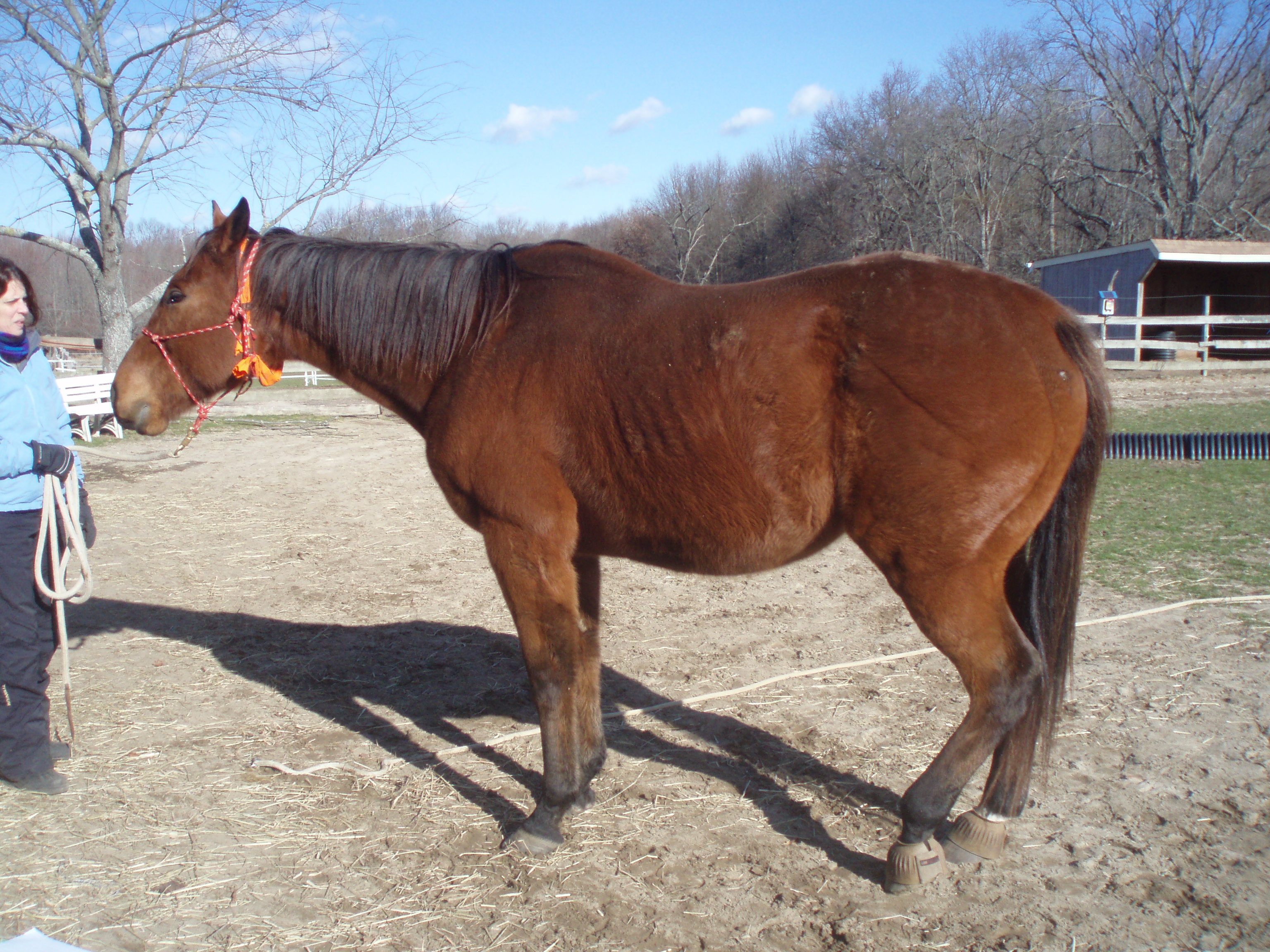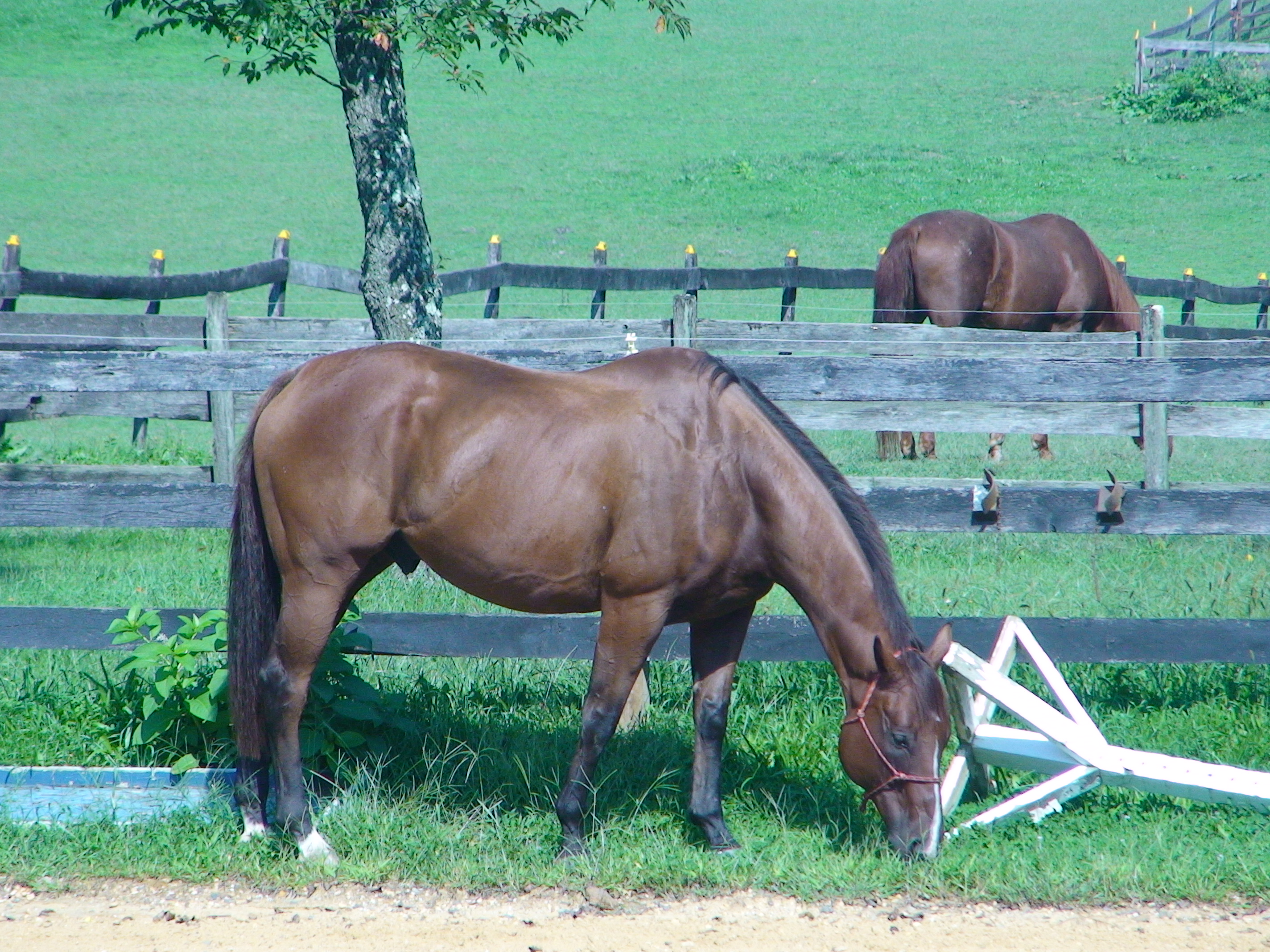 Meet - KOLOSZAR - Lip Tattoo #E03443, (Pulpit out of Beal Street Blues by Dixieland Band) born in 2000. Koloszar was bred in Virginia by Lazy Lane Stables, Inc. He raced twice (once at Keeneland where he finished up the track after narrowly avoiding a spill, and once at Gulfstream where he earned $320 for finishing well back in the pack in a maiden special weight). He was trained by Frank Brothers.
The above information is all we really know about Koloszar's early life. I did write Frank Brothers and got a nice letter in reply stating that Koloszar was given two chances to race and sent back to Lazy Lane stables to mature; that he just wasn't interested in racing. I have seen a video of his first race. At the beginning of the race you can see him watching them load a horse before him into the starting gate. The horse is resisting. Koloszar is watching quietly with bemused curiosity. When it is his turn he steps right in. His races are unremarkable. He starts off pretty well and then fades. In his last race two horses get tangled up somehow and fall. It did not look pretty…
We don't know much about him after his return to Lazy Lane until 2009. It is thought that at some point he may have been Foxhunted. What we do know is that in the winter of 2009 Kole ended up at Camelot Auction in Cranbury, NJ. He was emaciated and did not sell at auction. He was put in the 'kill pen' which meant he was awaiting shipment to a slaughter house. At that point, the good people at Helping Hearts Equine Rescue (HHR) raised funds and rescued him. They sent him to quarantine, had him vetted and fed him to put weight on.
That October my husband, Jim, and I had visited Zapata Ranch in Mosca, CO. There we rode each day - helping the staff check the fences, checking the weanlings and moving cattle to different pastures. We also rode to look at the bison (Zapata has 2500 bison) or into Great Dunes National Park which borders the ranch. At one point Jim said "I understand now why you love riding. I want a horse." So, when we got home I started looking.
Looking for a horse for another person is not an easy task. I knew we needed a largish horse, Jim is 6'4", and I knew we needed a quiet horse, the "husband safe" variety as they say. I was pretty sure we didn't want a thoroughbred. Everyone knows they are high strung and not for beginners. I was leaning towards a draft horse or draft cross. I was looking for a gelding. I love mares, mine is sweet but opinionated. I didn't think that Jim needed another female besides me telling him how to ride. I saw many horses and few fit the description their owners gave them of "husband safe." I would ride them, and then sometimes bring Jim back to try them. It seemed that if he rode them he loved them. We had a few heated discussions about why I wouldn't agree to buy the horses he loved riding. When I rode them or when I watched him ride them, a voice inside me seemed to say, "not this one, there are problems here."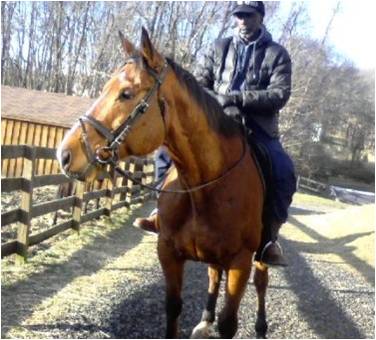 So on a cold day in January we went out to HHR to look at Koloszar. I was reluctant to look at him as he was a thoroughbred, yet Jim was anxious to find a horse. We only looked at him that day while someone else rode him for us. He was still quite thin, but gaining weight well. They'd had the farrier out to balance his feet and put new shoes on him and he was being evaluated as a trail horse. We liked what we saw and made arrangements to return and give him a try. They were very honest about Koloszar who was now being called Kole. He was pushy on the ground, meaning he didn't respect your space or "bubble." He was quiet and good on the trail as he was pretty unflappable. His left hock was swollen and appeared arthritic, but nothing that would interfere with light trail riding.
When we arrived, Jim immediately began helping the person tacking up Kole to clean his feet and talked with him about Kole. Lisa Post, owner of HHR, rode him first to see what he was like. She had not ridden him previous to this and she wanted to get to know him a little. Next I rode him. My first impression when I was mounted was, "Whoa, this guy is BIG!", 17 hands is much bigger than my 15.3 QH mare. As he started walking we seemed to eat up the ground. His stride is huge. Still, I trotted him and walked him and saw that he was very happy to do whatever you wanted. He had more "whoa" and less "go", seemingly a good match for my beginning rider husband. Next it was Jim's turn to try him out. They took a few turns around the arena and Jim came back, got off and said "I know I didn't do that great of a job with him. But I really like this horse!" This time I agreed, he was a nice horse. As we stood talking with Lisa and with the other people who had been watching Kole being ridden, Kole came up behind Jim and laid his head across his chest. Clearly he was saying "Take me home with you, PLEASE."
Kole and I had a rocky beginning. I was used to my mare Belle, who is very responsive and aware of where I am and what I am asking. Kole seemed to not always be aware or care that I was nearby. One time while swiping at flies with his back leg he caught my leg and gave me a really bad bruise. Kole had a number of problems with his feet. He had white line on his front feet so bad that we had to soak his feet. He would stand still if I held his head and rocked him like a baby, which was sweet, but tiring after 30 minutes. He had an abscess in a back foot. This required not only soaking, but bandaging as well. I'd never had to bandage a horse before and had to learn how to do this. Kole didn't always want to give me his feet and threw me to the side a time or two. I tried to leave as much of the work as possible for Jim to do. Kole was his horse after all. But Jim didn't have the time or the experience and he works, I don't. So I had to handle all of Kole's needs and problems. Kole and I were stuck with each other. From the beginning there was a strong bond between Jim and Kole. My bonding with Kole required quite a bit more growth on my part.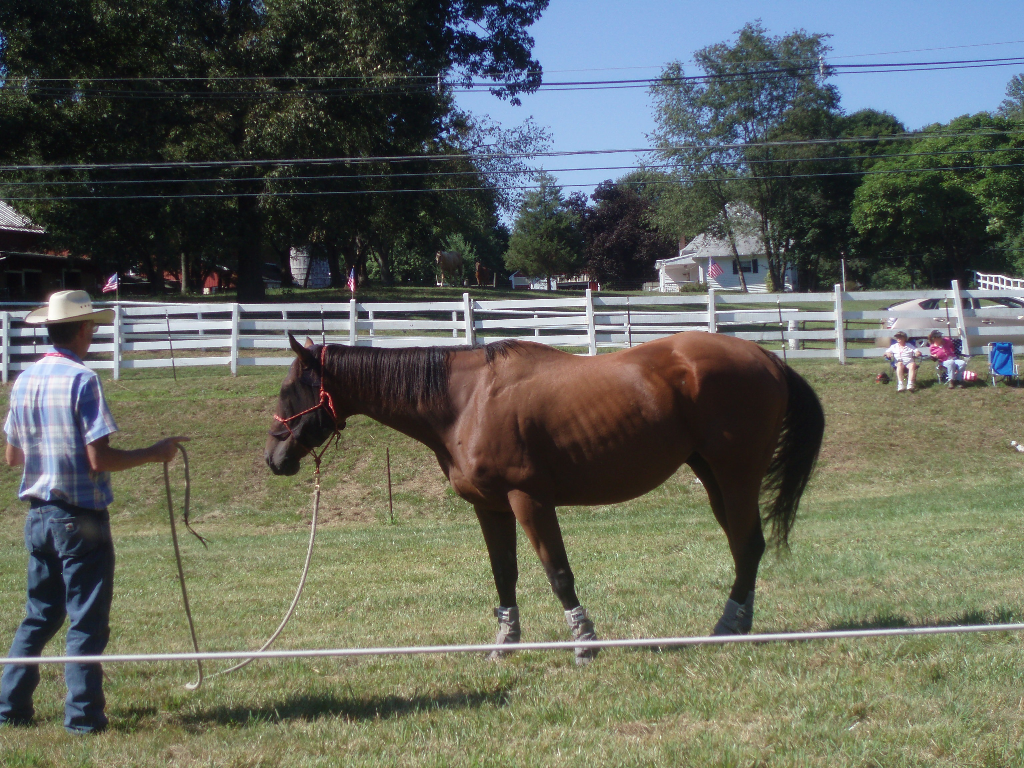 I practice Parelli Natural Horsemanship and I had begun my journey almost two years before Jim. I began introducing Kole and Jim to the seven games and did my best to let them learn as they got to know each other. Giving instructions to your spouse is not an easy task; neither is taking instructions from your spouse. In fits and starts their journey began. I say fits and starts because Kole had on and off lameness problems from his neglected feet as well as joint issues. Things seemed to be smoothing out for him in July and in August of 2010, the four of us went to a Parelli clinic about an hour away. We learned a lot and had a great time.
On the way home the driver transporting them said "Did you feel that?" I had thought we had hit a pot hole. He said no, that was the horses (we now realize that Kole may have fallen in the trailer). When we got back to the stable they both seemed fine. But, by the next day, Kole's back was very sore. I called a chiropractor to come see him but she couldn't come out immediately. In a few days though Kole's back seemed better, so on Labor Day we went for a ride. It was a pleasant ride and Kole seemed fine. However, several days later when the chiropractor did come out, Kole did not appear okay. Upon examination, the chiropractor felt that Kole was showing some abnormal neurological symptoms and suggested we get our regular vet out to check him. He came that evening and we discussed what was going on.
Kole was having trouble walking and keeping his feet under him. Sadly, he even seemed unaware that he was having these problems. We discussed the lurching in the trailer, the sore back and whether he could have hurt his cervical vertebrae thus causing his problems. We discussed EPM, Equine Protozoal Myeloencephalitis, a dreaded disease in which a protozoan (Sarcocystis neurona) enters the spinal cord and causes damage to the nerves. It causes muscle wasting and balance problems and can be fatal. We drew blood for EPM, gave him banamine, (which is preferable to 'bute' in cases of EPM) hoping to reduce inflammation just in case it was his neck, and made plans to take him for cervical x-rays. We started him immediately on 'Marquis' (Ponazuril), the drug of choice for this disease. Ponazuril directly attacks the protozoan without causing negative effects on mammalian tissue, making it a safe option for EPM treatment. Although the recomendation is to administer 1 round of Marquis, Kole was given 2. This entailed administering the drug for two months with the goal of killing the protozoan, thereby giving his body the chance to recover before there was much permanent damage. From following this treatment we hoped that he might return to 'normal neurologic function'.
Kole and Belle are closely bonded. When she is out of sight, he becomes VERY distressed. It has been suggested that in cases of neglect or abuse, animals will bond strongly to another animal, such as Kole had bonded with Belle. Likewise she was very protective of him. In cases of EPM, it is imperative that you keep the affected horse as stress free as possible as this can exacerbate the illness (stress can reduce immune function which can lead to clinical symptoms occurring). The barn owner was very helpful in meeting Kole's needs. Having him confined to a stall was not available to us (our horses were boarded outside 24/7) and this worked to Kole's advantage. Not only was Kole not separated from Belle, which would have distress him greatly, but by not being in a stall, he would have as much opportunity as possible to move around and keep his muscles and nervous system stimulated.
to be continued...